Cliffside Villa
Villa Information
Buzios Cliffside Villa is for sure one of the most beautiful villas in Buzios!
It was built by the famous Brazilian Architect Otavio Raja Gabaglia and decorated by Emery de Lima Fata.
When you enter the villa, you have the feeling that you are on the ocean, in a boat with blue water surrounding you from all sides. With 2 living room areas, a bar area, a TV Room equipped with a Plasma TV, DVD and Surround Sound.
There is an ocean front living room and a gourmet American Style Kitchen with Viking equipment, a large gas stove, a double door refrigerator and also a food warmer.
The Master Bedroom Suite has a separate TV area with ocean view and it has in total 1450 square feet, by far larger than any Brazilian style bedroom. It has a private deck facing the ocean.
Guest Bedroom Suite 2, has a total of 1400 square feet and it has an adjoining reading area.
Guest Bedroom Suite 3, has 480 square feet and it has a private ocean front deck, it's extremely modern and colorful.
Guest Bedroom Suite 4, is located in it's own bungalow and has 1480 square feet. Offering 2 totally independent rooms, like a private house. It is very quiet and it can be used like a living room and a bedroom or 2 bedrooms in case of large groups or families. This suite feels like being in a fish bowl with water surrounding you from all sides. It has a very large private deck facing the water with amazing view.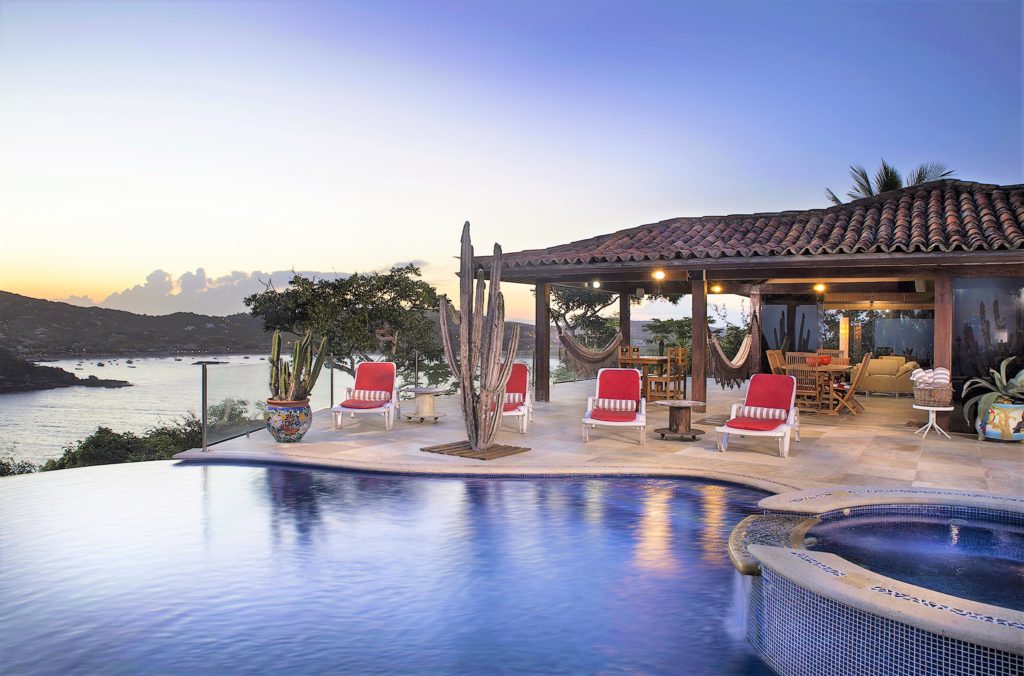 Guest Bedroom Suite 5 has 520 square feet, with private deck facing the water and Ferradura Beach.
The swimming pool has Murano tiles and specially made details in Murano color, custom made small jewel like tiles. There is also a heated Jacuzzi facing the blue waters of Ferradura Beach.
Amenities include: Heater. Air Conditioned. Ceiling Fans. Plasma TV. Cable TV. VCR. DVD Player. Blue Ray. Sound System. High Speed Wireless Internet. Iron. Laundry Room. Sheets and Towels.
Kitchen quipped with: Utensils. Gas Range. Wood Oven. Pizza Oven. Dish Washer. Microwave Oven. Refrigerator. Freezer. Coffee Maker.
Outdoor Amenities include: Decks. Balconies. Gardens. Amazing Views. Barbecue Area. Pool and Jacuzzi. 3 Car Garage.
Staff of Caretaker. Full Staff of Maids and Cook available.
This beautiful villa was used by MTV to film the show "The Duel".
Located in an area with very easy access to "Rua das Pedras" the main street in Buzios where you will find the best restaurants and shopping too.
Just a 5 minute walk down the street to Ferradura Beach, the best beach in Buzios.
The villa is situated on a bluff, above the water, not very high, but there is no entry to water from here.
The entire complex has a backup generator, in case power goes down. In Buzios, during the peak of the summer, blackouts are common during peak times from time to time. However, at Cliffside Villa, the generator will keep the power running until the main power is back up.
Villa Details
| | |
| --- | --- |
| Bathrooms | 5 |
| Bedrooms | 5 |
| Sleeps | 10 |
| Smoking Allowed | No |
| Children Allowed | No |
| Location | Ferradura Beach |
Villa Gallery
See how the Villa looks like. Click on the images to see a larger version.